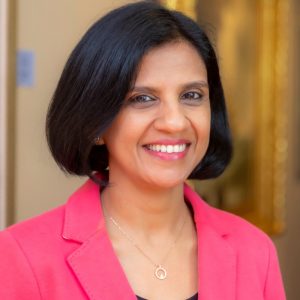 Meet Hema N. Viswanathan, BPharm, MS, PhD, Vice President at PRECISIONheor
Hema N. Viswanathan, Vice President, is a health economist and outcomes researcher with 15 years of industry experience.  Dr. Viswanathan's interest in studying pharmacy and in the pharmaceutical industry was largely shaped by the environment she grew up in at Ciba-Geigy's (later Novartis) state-of-the-art research center and campus in Mumbai, India, where her father was a senior scientist trained in organic chemistry.  Dr. Viswanathan found the world of drug discovery fascinating at an impressionable age, given the exposure to acclaimed basic science researchers trained around the world often engaged in interesting scientific discussions.  While in pharmacy school at the University of Mumbai, she grew interested in marketing and health economics, which led her to join the graduate program in Pharmacy Administration at the University of Illinois at Chicago College of Pharmacy.  The M.S. program introduced her to a wide variety of disciplines ranging from advanced behavioral pharmacy to managed care and pharmacoeconomics.  She gained an appreciation for qualitative research and the importance of giving voice to the patient's perspective, which served as the foundation for gaining expertise later in the development of patient reported outcome (PRO) measures.
An internship at Abbott, North Chicago during which she was involved in projects on HIV epidemiology and health economics to support the launch of Kaletra® solidified her interest in the pharmaceutical industry.  Dr. Viswanathan then joined Purdue University's School of Pharmacy for a doctoral degree in Pharmaceutical Economics and Marketing.  The interdisciplinary nature of the program was immensely helpful, as it provided exposure to research methods, epidemiology, psychometrics, economics, statistics, and courses including competitive strategy at the Krannert School of Management.  At Purdue University, Dr. Viswanathan was awarded the Jenkins-Knevel Award for Excellence in Research and the Albert and Anna Kienly Award for Excellence in Teaching in 2005.
Dr. Viswanathan joined Amgen in 2005 where she held positions of increasing responsibility within Global Health Economics for over 10 years.  During this time, Dr. Viswanathan supported product launches and evidence generation activities for pipeline and marketed assets.  As Director, Inflammation Pipeline Lead, she led initiatives within cross-company partnerships including a collaboration with Genentech on the development of PRO measures for FDA qualification.  At Amgen, she also gained affiliate experience across key European markets supporting the development of reimbursement submissions for oncology launches within the HTA Center of Excellence.  Dr. Viswanathan served as Executive Director, Global Therapeutic Area Head for CNS, Neuroscience within Global Health Economics and Outcomes Research at Allergan from 2016 to 2020 and most recently, provided leadership for health economics activities in support of the launch of UbrelvyTM in early 2020.  The opportunity to work with a group of talented researchers and utilize her industry experience led her to join PRECISIONheor in August 2020.  In her current role at PRECISIONheor, Dr. Viswanathan works very closely with Evidence Synthesis team members and oversees the real world evidence team based in Boston.
Over the years, Dr. Viswanathan has led health economics teams to inform clinical development programs, payer strategies, and support launch readiness and execution.   She has developed and executed global value evidence generation strategies in multiple therapeutic areas including neuroscience, hematology, oncology, osteoporosis, psoriasis, ulcerative colitis, and Crohn's disease.  Dr. Viswanathan's research experience encompasses retrospective and prospective observational research, development and validation of PRO instruments to support labeling, and economic modeling.  Dr. Viswanathan is widely published in peer-reviewed journals including Quality of Life Research, Cancer, Osteoporosis International, Contemporary Clinical Trials, Journal of Managed Care Pharmacy, Cephalagia, Headache, and American Journal of Managed Care.
Dr. Viswanathan has a passion for drug development and commercialization and enjoys working collaboratively with teams to identify evidence gaps, shape access strategies, inform endpoint selection in clinical trial programs, and design compelling HEOR studies.  Dr. Viswanathan greatly values empowering teams to realize their full potential.  Dr. Viswanathan lives in Irvine, California and in her spare time, enjoys walking, relaxing with family, practicing yoga, and learning Indian classical dance.