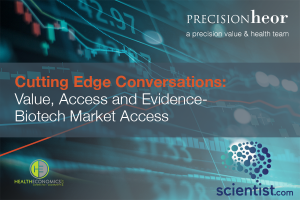 On-Demand Webinar: Cutting Edge Conversations
PRECISIONheor's Sajjad Raza, MD, PhD, MSM, joined HealthEconomics.com Editor-in-Chief Patti Peeples, PhD, RPh, for a presentation and panel discussion focused on biotech market access and the importance of early evidence development in commercial success. Watch on-demand now!
–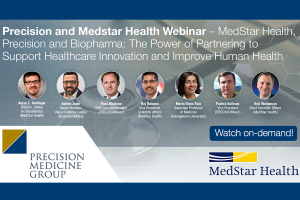 On-Demand Webinar: The Power of Partnering to Support Healthcare Innovation and Improve Human Health
Did you miss our recent webinar in partnership with MedStar Health, a nationally recognized leader in the integration and application of real-world data analytics? Watch it on-demand now! This webinar was moderated by PRECISIONheor's Ross Maclean, MD, and featured MedStar Health's Neil Weissman, MD, who joined a panel of experts from Precision and MedStar. The discussion focused on the potential of cross-industry collaborations to support evidence generation for life sciences companies that will, in turn, advance medical care and health outcomes, and drive biopharma innovation.
–